vVols Podcasts
Misc vVols and Storage Podcasts
Unexplored Territory Podcast #36
UNEXPLORED TERRITORY
#036 - What's new for Core Storage in vSphere 8, featuring Jason Massae!
In episode 036 we welcome back Jason Massae, Tech Marketing Architect at VMware responsible for core storage (vVols, VMFS, NFS etc). We talk about the various enhancements and features introduced in vSphere 8 for NVMe over Fabrics, vVols NFS, and much more!
Make sure to follow Jason on Twitter, and make sure to read his material on NVMeOF and vVols:
Reads and Writes Podcast #6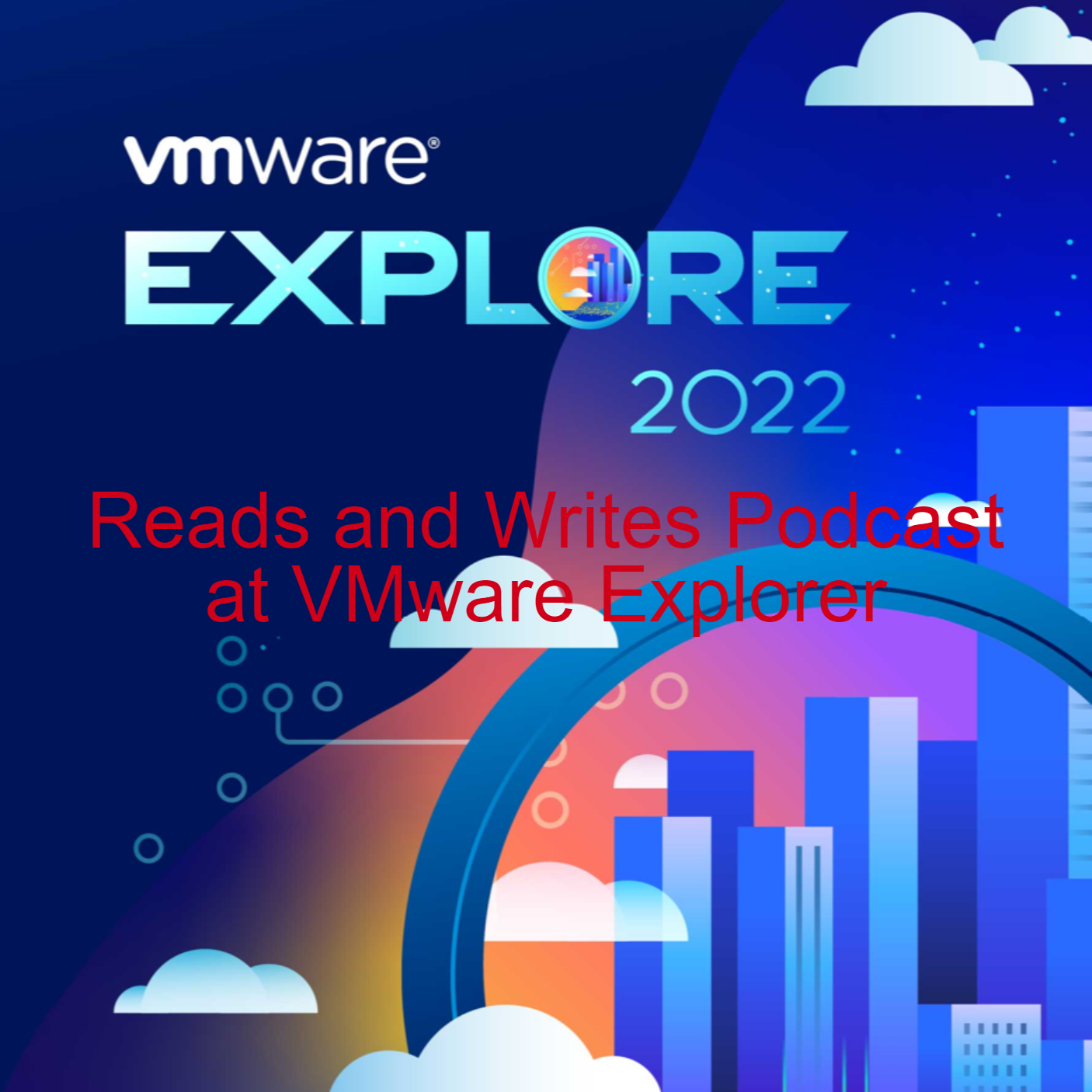 What's New with vSphere 8 Core Storage
Jason and Cody speak on the show floor and talk about the latest vSphere 8 features.
Tech ONTAP Podcast Episode 29: Virtual Volumes – vVols
Virtual volumes, also known as vVols, are a VMware feature for providing VM granular, policy-based storage management.  What this means is that as a virtualization administrator, you no longer have to track and juggle datastore features and capabilities.  You can simply create a policy of the features you want to take advantage of, then rely on the storage provider to ensure that the requested capabilities are used for your virtual machine.
The NetApp VASA Provider is the virtual appliance which provides vVols functionality with clustered Data ONTAP.  On March 3rd, NetApp released version 6.2 of the VASA Provider, be sure to check out the enhanced functionality!
This week on the podcast we have a bit of a homecoming, with our former host, Pete Flecha (@vPedroArrow) joining us.  Pete is the Technical Marketing Engineer responsible for VVols integration at VMware, and he does a great job of explaining and elaborating on the value of VVols for everyone.
If you are new to the podcast, tune into any of our previous episodes to see what you may have missed. You can find Tech ONTAP Podcast episodes on the NetApp Blog.
Virtually Speaking
The Virtually Speaking Podcast is a weekly technical podcast dedicated to discussing VMware topics related to storage and availability. Each week Pete Flecha (@vPedroArrow) and John Nicholson (@Lost_Signal) bring in various subject matter experts from VMware and within the industry to discuss their respective areas of expertise. If you're new to the Virtually Speaking Podcast check out all episodes on vSpeakingPodcast.com.
vSpeaking Podcast Ep 155: vSphere 7 Core Storage
The release of vSphere 7 introduces several enhancements to core storage including external connectivity to NVMe devices with NVMeoF, shared VMDKs for Microsoft WSFC, and in VMFS, optimized first writes for thin-provisioned disks. This week on the Virtually Speaking Podcast we welcome Jason Massae to discuss what's new in vSphere 7 Core Storage.
Links Mentioned
vSpeaking Podcast Episode 115: Virtual Volumes (vVols)
VMware Virtual Volumes (vVols) is an integration and management framework for external storage that provides finer control at the VM-level, streamlines storage operation, and offers the flexibility of choice. This week on the Virtually Speaking Podcast we welcome several of the vVols partners to share insight into their implementations and what customers are saying about this revolutionary shift in VMware architecture. #VivaLasvVols.
Links Mentioned
vSpeaking Podcast Episode 78: vSphere 6.7 Core Storage
The vSphere 6.7 release offers several new features and enhancements to further the advancement of storage functionality. This week we welcome VMware Core Storage expert Jason Massae to walk us through various features and enhancements. Sitting in for John this week is VMware Chief Technologist in the Office of the CTO and good friend of the Virtually Speaking Podcast Cormac Hogan.
Links Mentioned
vSpeaking Podcast Episode 70: Why vVols is Pure Genius
Virtual Volumes (vVols) was designed to solve a lot of the pain points VMware and/or storage admins face today.  VMware partners with various storage partners to provide the management component of vVols, the VASA Provider. Recently Pure Storage introduced vVols support for their FlashArray All-Flash-Array with its Purity 5.0.0 operating environment. This highly anticipated addition to the vVols partner program includes the latest VASA certification providing support for array-based replication.
This week on the Virtually Speaking Podcast we bring in one of the industry's most authoritative vVols subject matter experts Cody Hosterman from Pure Storage.  Cody shares with us the many benefits of using vVols regardless of your storage vendor and also shares some feedback from his most recent vVol customers.
Links Mentioned
Regardless of your storage vendor, Pure Storage's Cody Hosterman has authored an abundance of  Virtual Volumes educational content.
Overview Posts:
Deep Dive Blog Posts:
Also New from Pure Storage for VMware:
VMware Validated! SDDC 4.1 with Pure Storage
This certification is based a VMware Validated Design, which provides an extensively tested blueprint for customers to confidently build out their VMware private cloud using the VMware platform and the FlashArray All-Flash-Array. The reference architecture with Pure is delivered through VMware's certified integration partners.
ActiveCluster support with vSphere Metro Storage Cluster
We're all super excited to see ActiveCluster released with Purity 5.0. Now we include support with VMware's Metro Storage Cluster to deliver an end-to-end availability solution from VM to storage leveraging Pure synchronous replication, active/active stretch cluster, and VMware HA for customers who demand zero RPO and RTO.
Virtually Speaking Podcast Episode 32: vVols 2.0
What's new in vVols 2.0 
The release of vSphere 6.5 introduces enhancements to several of VMware's storage management capabilities, including enhancements to Storage Policy-Based Management (SPBM), Storage IO Control (SIOC), virtual disk management, and of course the highly anticipated 2.0 version of vVVols. This week we continue our coverage of vSphere 6.5 and bring in VMware Product Manager Ben Meadowcroft to discuss SPBM and Virtual Volumes 2.0.
Ben Meadowcroft is VMware Product Manager with a background in developing and launching new software products to win new business and revitalizing legacy products to grow market share. Ben's specialties include Product Management, New Product Development, Team Leadership, Software Design, User Interface Design, Java & JavaEE. You can follow Ben on twitter at (@benMeadowcroft).
Show Related Links
Associated Content
From the action bar MORE button.
Log in
to enable this section.